President's Update – Alpha Chi is Back
Pictured above is the Alpha Chi Team (left to right): Facility Manager Doug Sampsel, House Mother Rocky Johnson, House Manager Matt Hamilton, Consul Billy Lougheed, Pro Consul Andrew Juarez, Chef Angela Anderson, Cleaner Dana Tressler.
By Jim Lundy
Brothers and friends, I'm pleased to report to you that Things are going well for alpha chi overall. We did very successful alumni weekend in June that included new winners of the tacky jackets and one of the best turnouts in recent memory. The house looked great and many alumni commented on it.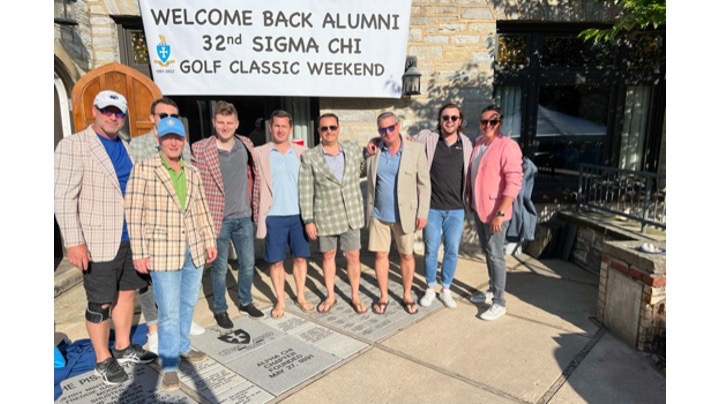 Last Year's Winners present the Tacky Jackets to the 2022 Winners. Left to Right: Tournament Director Scott Fozard, Joe Conaty, Jake Kliendl, John Bamonte, Bob Peruzzi, Ryan Touchton, David "Chicago" Knapp, James "Bubba" White, Mike Nance.
Strong Fall Opening
I was in State College in August to help the staff prepare for the opening of the house. We also had an inspection by Sigma chi and passed with flying colors.
Expanding our Staff
We have a new house mother rocky Johnson that many alumni met at alumni weekend. Rocky has previously been housed by there at Sigma chi at Kansas State. Angela our chef is in her second year and is cooking amazing food for our undergraduate brothers. Dana, our Cleaner is in her second year and the house is as clean as it's ever been. Due to cost overruns from our outsourced maintenance organization, we hired and in house facilities manager/handyman comic Doug Sampsel and he is doing some great work for us
Strong Start for the Chapter
The chapter had a strong start to the fall semester and took a large pledge class of close to 30 pledges (including some legacies).
New Turf in the Side Yard
The Consul Billy Lougheed and the Executive Officers presented the idea of installing Turf in the side yard – and after working on financing all summer, the project came to reality, thanks to the generous donations from Alumnus Dr. Steven Murphy and Consul Lougheed and his Father.
We will have a bigger article in an upcoming newsletter, but suffice to say, the Turf looks amazing and makes the Side yard a multi-purpose facility.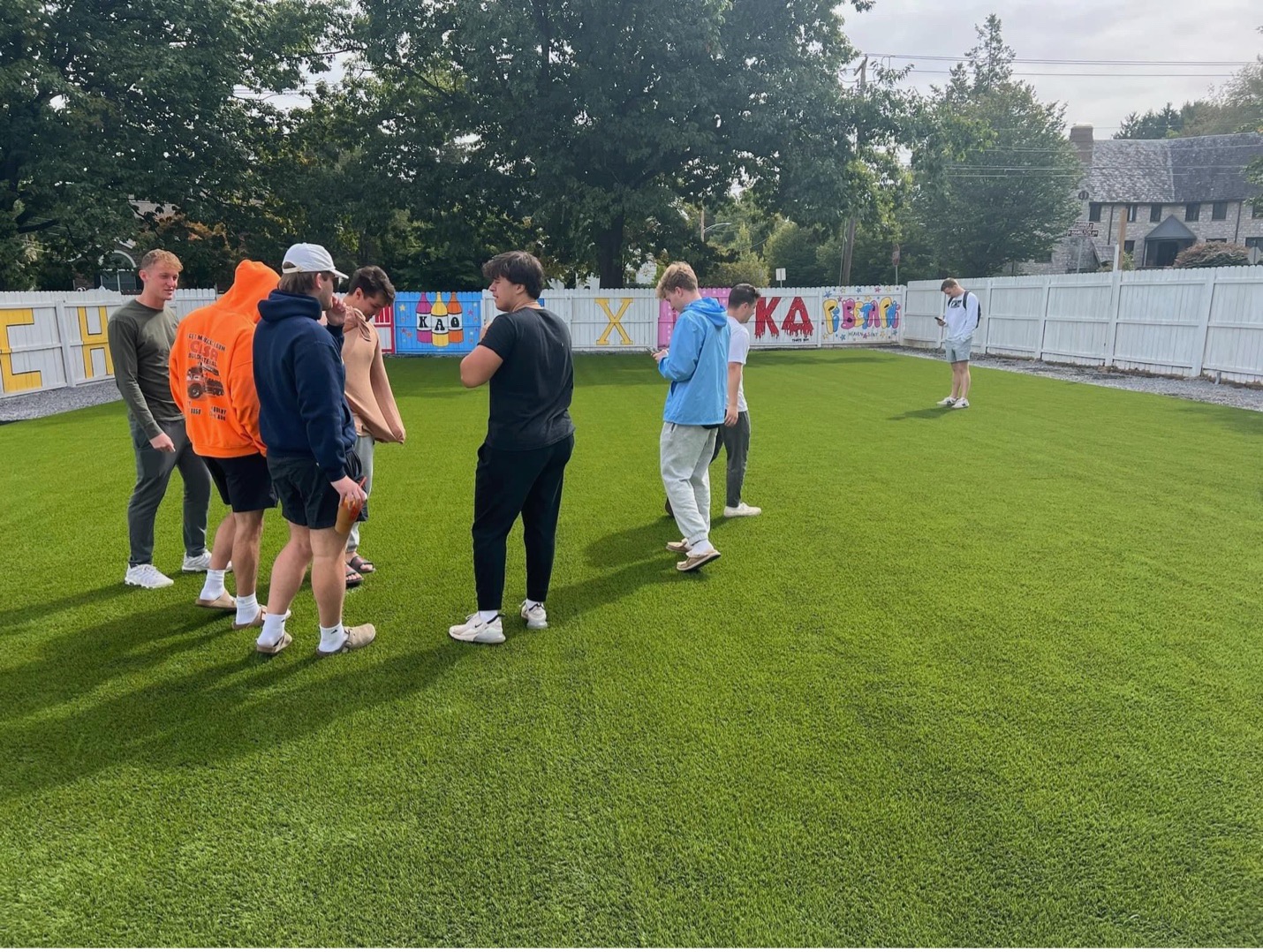 Brothers getting their first look at the completed Turf Project at Alpha Chi.
There is more to come in our Fall newsletter but things are going well for Alpha Chi. Look forward to seeing you for Homecoming.